In case the past 50 times I've mentioned it haven't made it clear, around here
Peppa Pig
is quite the celebrity.
My kids have been excited about this charming series since the first time they were introduced to it and the excitement and giggling hasn't lessened. Designed for preschool-aged children and airing on Nick Jr, Peppa Pig stars Peppa, a loveable, energetic little piggy, along with her family – her little brother, George, Mummy Pig and Daddy Pig – as they play games, go to school, take family trips and, best of all, jump in muddy puddles.
So, considering how much my kids have enjoyed watching the show, playing with the playsets, reading the books, hugging the plush toys and more, I knew right away that they would be thrilled to know that Peppa has once again made the leap off of the television screen and into a new mobile world with the launch of the new
Peppa Pig's Party Time
app.
Entertainment One and P2 Games (which DOES NOT contain in-app purchasing! Yay!) have brought everyone's favorite little piggy to life with this new app! Filled with the show's familiar music, accents and sound effects, Peppa Pig's Party Time is an interactive app filled with fun and games that are designed to delight children everywhere by making them a part of the Peppa Pig action.
As soon as my girls saw the new Peppa avatar on the iPad, they were beyond eager to begin exploring and playing. While I assumed that they wouldn't need too much help, I was pleased to realize that between the colorful, simple design, the straightforward instructions from the narrator and the intuitive, child-friendly style, my kids were able to play independently right from the start.
Fans can help Peppa prepare for her special day and enjoy digital playtime with their favorite piggy like never before. With seven party-themed games, activities and a photo book designed for preschoolers age 2-6, little ones will be delighted by playing one and all!
Create Your Invitations:
Help Peppa design and make the invitations to her party. Choose colors, stickers and phrases to make invites, put them in envelopes, add stamps and addressees and put them in the postbox. Mr. Zebra, the postman, then empties the postbox and sets off on his route to make his deliveries!
Create the Party Bags:
Choose your color party bags and then have a blast decorating them with all sorts of cute stickers (animals, flowers, space, sports and more)! Finish by choosing five goodies to place inside the party bags so that they will be ready to hand out to friends!
Let's Bake a Cake:
Add the ingredients for a cake, stir, pour and bake! After your cake is cooled, mix and color the icing, choose a filling for your cake, and frost the top. Add decorations (candles, candies and/or sprinkles) and then "blow" out the candles with Peppa!
Musical Chairs:
Choose up to four characters to participate and touch the individual finger pads to make them each move while the music is playing. When the music stops, the characters try to find a chair but, Oh, dear! There are not enough seats for everyone, so the character left without a chair is out and the game continues until one winner is crowned.
Pass the Parcel:
Choose up to four characters to participate in this unique game. Using the finger pads, the present is passed from character to character while the music plays. When it stops, the parcel is unwrapped... only to discover that a smaller parcel is inside! Keep on playing as the parcel gets smaller and smaller until the winner has unwrapped the prize!
Pinata:
Choose up to four characters to participate. Each one takes a turn pulling a colored ribbon until the pinata breaks open and coins fall to the ground. Each character "collects" coins (which are worth different amounts) and the winner is declared as the one with the most money!
Photo Album:
Titled "My Party," users are able to scroll through photos from the party and place them one by one into a photo album. A very cute way to reminisce about the party that changes each time to reflect each party held!
We have had Peppa Pig's Party Time around our house for a little while now and both girls
love
it. They giggle at the sound effects, cheer when their favorite characters wins at musical chairs, get excited over adding new pictures to their photo book and more.
At the same time, I love knowing that their entertainment is also providing creative, critical and cognitive thinking, hand-eye coordination, practice in counting as well as colors and much more. I'm always a big fan of combining education with play, and having the ability to include my girls' beloved pig pals as well has made this a hit for everyone!
Compatible with iPhone, iPod touch, iPad and Android devices, Peppa Pig's Party Time retails for $4.99 and can be downloaded in minutes from
iTunes
. Not an Apple user? No worries, there is also an Android version available on
Amazon
as well.
Peppa Pig airs seven days a week on Nick Jr. (check your local listings for airtimes). You can also find out more about this great show at
PeppaPig.com
and connect with Peppa Pig on
Facebook
and
Twitter
as well. Plus, to get in on the fun and join the Peppa Pig party even more, use these great printable pages to make a Peppa Pig party hat or Peppa Pig party mask!
(hint: click on each image to visit and download the full size printable)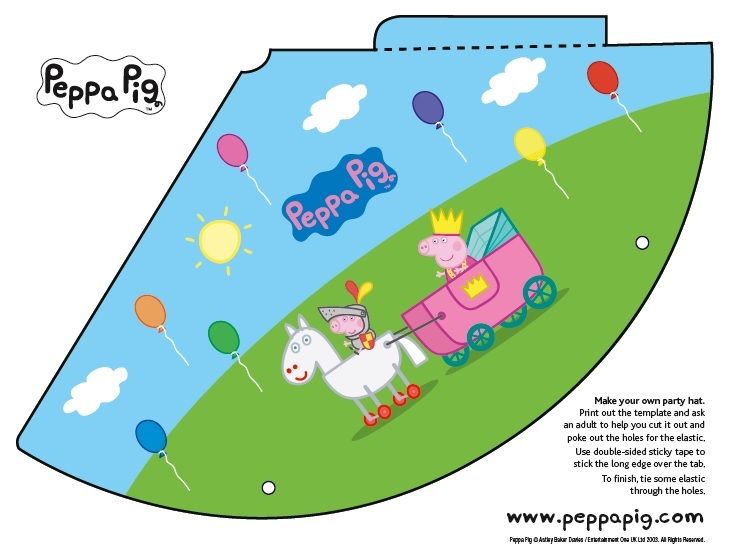 I was provided with a complimentary download of Peppa Pig's Party Time in order to facilitate this review as well as a gift to thank me for my time. However, as usual, all thoughts and opinions are honest and my own.