While driving to the dentist with Big Sister E recently, I realized that I had forgotten my phone at home. From the amount of muttering and angry glances I kept giving at my purse (since it was the purse's fault that the phone wasn't in there,
of course
), it struck me just how dependent I've become on this single device.
After being used to having so many capabilities, conveniences and ways to stay connected at my fingertips at all times, the act of being so...
disconnected
can leave me feeling a little lost. Which is no wonder that so many people cringe at the idea of actual loss or damage happening to their phone.
Unfortunately, it happens more often than we realize. As I mentioned in my recent
RadioShack giveaway
, July is the worst month for cell phones due to the water, heat and outdoor activity that all present dangers and increase the likelihood of damage.
Are you one of the many who have had a lost, stolen or broken cell phone? According to
Asurion
, you're in good company, as their reports show that 60,000,0000 people in North America will lose, damage or have their phone stolen this year. That works out to over 164,000 per day, 114 every minute or nearly two
every second
. Yikes!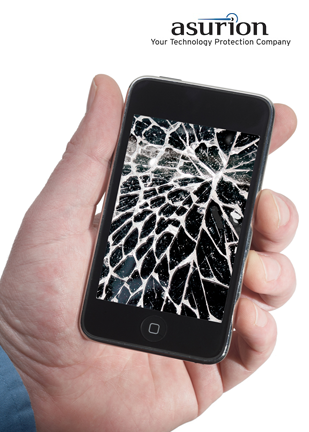 Content and/or other value provided by our partner, Asurion.
Over the years I've had my share of cell phones (many of which now have a place in my daughters' pretend play gear) and have had a mobile mishap or two where time moved in slow motion as I watched the phone slip from my hand, pocket or bag and fall to the ground.
No matter how careful you think you are or how much you assume
Oh, it won't happen to me,
someday it will be your phone that is shattered on the sidewalk or being pulled out of the swimming pool or toilet!
While I have always assumed that the only option for a broken or missing phone was to clean out your wallet and purchase a new one, I was then introduced to Asurion, the global leader in providing consumer technology protection services across three continents.
Understandably, people are eager to start using new mobile devices just as soon as they get them, but purchasing phone protection during the first 30 days of device use should truly be a priority – not to mention being the best and easiest way to have peace of mind. Asurion makes it easy because they work directly with your provider to provide the insurance you desire.
The complete Asurion protection package, available through most wireless companies, empowers you with the apps and services that put you in the driver's seat so that you can enjoy using your smartphone. You'll rest easy knowing you're protected with Asurion, whether you need technology to secure your data privacy against growing mobile threats, need a device expert who is just a call or click away, or coverage to replace your phone as quickly as the next day.
Our cell phones have quickly become beloved treasures in our lives that manage to keep us easily connected to family, friends and work, while also keeping us organized, acting as storage for photographs, and much more. What would you do if all of that was suddenly gone?
Visit
Asurion
to find out more about how they can protect your investment today, and, thanks to their generosity, one person will soon turn their mobile mishap into something positive, because...
One lucky person will win a $40 Amazon gift card from Asurion!
(Enter with the Rafflecopter form below. If you have any questions or problems entering, there is a video tutorial
found here
that can help.)
a Rafflecopter giveaway
A big thank you to Asurion for providing a $40 Amazon gift card for me as well as for one lucky giveaway winner. The opinions shared are my own and honest and if you really need to see more, click here to see how I roll.